---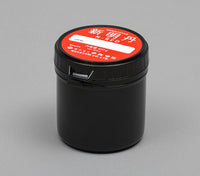 Description
Lead-free Mold Inspection Agent

Safe as environmentally-friendly products (RoHS 2, PRTR, etc.)
Can be applied over 5 times larger a surface area than the conventional red lead
A thin and even coat enabling accurate contact inspection
Can be used as is, eliminating the cumbersome task of mixing with oil
Easily washes off skin and clothing
Specification
Model
Use
Appearance (Property)
Capacity
N-RED
- Precision finishing
- General use
- Color check use
- Alignment inspections of machine parts
- Gear engagement inspections
- Plane finish unevenness inspections
- Die contact inspections
- Sliding faces contact inspections
- Marking-up work
Brilliant Orange (Paste)
400g
Viscosity adjustment: Please use mineral oil when adjusting the viscosity of Shinmyotan.
Oil may occasionally float depending on the transportation method and storage condition. In such case, stir it with a stick properly in other to use it normally.
When opening the container, please wear protective gloves to prevent cutting hands.
HS code: 3405.90.000