---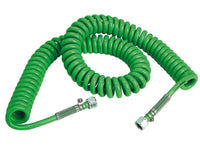 Description
Covered with pure urethane tube utilizing the properties of the thermoplastic polyurethane resin. It is an epoch-making air hose with outer diameter only φ28 mm.
For Cylinder apparatus, Coating spray gun, Industrial equipment, Food machinery, Medical equipment, Pneumatic tools, etc.
Curl Hose (Urethane Air Hose) is the standard type that can be used for various purpose.
Specification
| | |
| --- | --- |
| Apperance | The outer diameter is φ28mm (standard type) : Light and easy to handle |
| Flexibility | It is flexible and light weight (1/3 of the rubber hose) : Grip operation is easy and makes your work simple |
| Elasticity | It has high repulsion characteristics and can endure severe use |
| Wear resistance | Wear resistance is 3-5 times that of rubber hose |
| Heat resistance | Up to 70℃ |
| Cold resistance | Flexibility can be kept even in the condition -10℃ |
| Pressure resistance | It tolarates a 300,000 times or more expansion and contraction test in air pressure 0.7MPa |
| Operability | The outside diameter of the curl is narrow and the both end of the hose are straight for a certain size, therefore it will not rent even handling them roughly |
| Color tone | Mellow green (protection against eyestrain) |
Part No.
100
200
300
400
600
750
Straight Portion A (mm)
100
200
300
400
600
750
Weight (g)
60
80
120
150
210
250
Curl outside diameter (φ mm)
28
Operating range (mm)
about 0.3
about 0.6
about 1.0
about 1.2
about 2.0
about 3.0
Burst pressure (MPa)
2.6
Working pressure (MPa)
Up to 0.7
Inner dia. x Outside dia. (MPa)
5 X 8
Hose coupling
G1/4 Female thread
Carved seal No.
10
20
30
40
60
75